The Unreal Engine has been used since 1998 to make hundreds of incredible games of every imaginable style and genre. From Batman to Rocket League, Mortal Kombat and more, this is the software that the industry's biggest developers have used to make the most popular games that keep us coming back for more. 
Learning a new software can be a daunting task. But no Fear! This class will guide you through Unreal's interface and introduce you to its basic concepts and functionality so you're ready to start exploring the what the engine can do.
---
Required Materials
You will have to bring a laptop with the Unreal Engine 4 Installed. You can download it free
here
. We also reccommend bringing a mouse.
---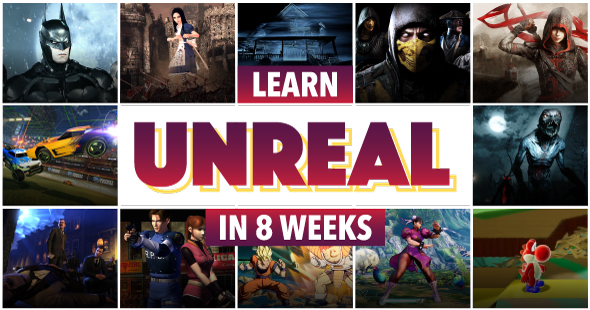 LEARN UNREAL IN 8 WEEKS - New York
Tuesdays & Thursdays, 6:30-9pmMarch 27th - May 17thThe Alley - 119 W 24th St.New York, NY 10011


---
Meet the Instructors:Javier Olazabal & Ryan Carper Environment Artist & Gameplay Programmer, Defiant Studios
Javier is a creative leader with an eye for tactical planning who has contributed to AAA titles like Infamous Second Son, Call of Duty: Advanced Warfare, and Just Cause 3. Javier is passionate about enhancing narratives with thoughtful, deliberate environmental storytelling. Beyond his technical expertise in 3D art, he proactively builds solutions for pipeline management, provides art direction on a variety of projects, and mentors junior artists in the field.Ryan has contributed to a number of AAA titles including Just Cause 3 and DC Universe Online.  He has held a variety of jobs in the game space, ranging from game engine development at Amazon, to working on gameplay at medium sized companies such as Avalanche Studios, to working from home for small startups that have just five people.  Ryan is currently employed at Defiant Studios where he has a lot of fun being on a team of extremely talented and passionately creative people.  He enjoys the challenge of combining math, code, and design to create engaging experiences, and is excited to share that knowledge with other people.