50 games. 300 players. 1 night.Join us for our biggest Boston Expo yet on May 31st at Laugh Boston!
Over thirty game developers will be showing off their latest games one-on-one to a crowd of 300 people. For developers, this is a great opportunity to show off their games (finished or unfinished) and get direct feedback from players. For everyone else, it's a unique opportunity to try out the biggest collection of games made in and around Boston all in one place. Each game gets its own booth as players meet the developers and try out their games. Join us for Playcrafting Boston's biggest event!
---
For Attendees: You must register on Eventbrite in order to gain access to this event. Please include your first and last name when you RSVP. Your name must be on the list to get past building security. See you all there! 
For Developers: We're now accepting game submissions for this event! Submit your game here. We'll reach out to confirm inclusion. If you'd like to bring multiple games, please submit each separately. We'll reach out to confirm inclusion. All games shown at Playcrafting events in 2017 will be eligible for The 2017 Bit Awards in December!In the interest of fostering an inclusive and safe environment at all of our events, our Code of Conduct will be enforced.
---
FEATURED GAMES
Austen Translation by Worthing & MoncrieffBacon Man: An Adventure by Skymap GamesBallistick by Bomb Shelter GamesBattery Boy by Petricore Inc.BLT by Daimen Paquin-Nault Bryte by Justin TardiffBug Bots by BlueFireArts Clone Drone in the Danger Zone by Doborog Games Depths of Sanity by Bomb Shelter GamesDesolus by Mark Mayers Dominature by NaughtShore Games Dungeon in a Bottle by Strange Spaces Emily is Away Too by Kyle Seeley Flock of Dogs by Max Clark Glitch's Trip by Ransacked Studios Heliophobia by Glass Knuckle GamesMake Sail by Popcannibal A Matter of Murder by Worthing & Moncrief Mighty Arrow by PixeletryMondrian – Plastic Reality by Lantana Games Nightrunner by Box Mountain Game Now Everyone Get The F%$# Out! by Starcap GamesPaper Shadows by Idle Action Studios Prom by Oxford Street Games Return to the Stars! by Festive Ninja Salad Hunt by Salad Hunters Schlocks by Fancy Bear GamesStarCrossed by Contigo Games SteamVision by SteamVisionStatic Ops by Andrew Baillie Super Knight Quest by Octosoft Super Slime Arena by JellyTeam Susurrus: Season of Tides by Evil Overlord GamesYankai's Peak by Kenny SunZombie Scrapper by Ransacked Studios 
Many more coming soon!
---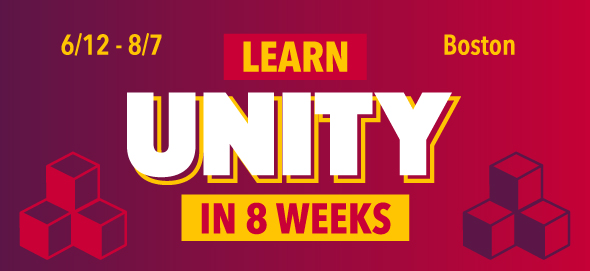 We'll also be previewing topics from our first Boston-based Learn Unity in 8 Weeks course, coming June 12th! Full details here. Only 18 spots remain. Got questions about the course? Contact us here. 
---
Visit us at playcrafting.com | Tweet us at @PlaycraftingBOS #PlaySpring