Game feel is matching an action's feedback in a way that further conveys information about the world and invokes emotion in the player.
The class will be a lecture format, presented as a slideshow with images and video examples to further illustrate the key concepts. Attendees will walk away with concrete examples and techniques for creating, applying, and evaluating Game Feel in their own games.
This class will cover:
What is Game Feel?

Examples of Game Feel

Types of feedback in games: Audio, Visual and Tactical

Meaning from Feedback

Hierarchy of Game Feel

How do we measure Game Feel?

Passive Game Fee

Way you can practice applying game feel to your own projects
All attendees will receive a class packet including notes, resources, and exercises upon completion of the class.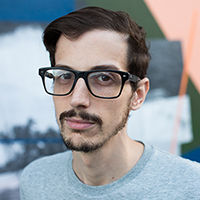 John Corn is a game designer, developer, and artist (when he has to be). Previously, a Gameplay Programmer at Normal VR, where he worked on Half + Half, an Online VR experience focused on creating fun and meaningful connections between players. Currently running Tarraske Digital, which is focused on building games with minimal complexity and maximum depth, taking player's action and turning them up to 11. He is also very committed to short dev cycles, creating and launching games in less than 10 months.