Join us in the upcoming Learn Unity in 8 Weeks course! This course is virtual. Upon enrollment, instructions to attend the class will be sent approximately one hour before the first day of class begins.
By the end of this 8 week Unity Game Development Bootcamp, students are expected to leave with 3 completed Unity Games as well as the beginnings of their own game masterpieces. We expect no formal coding or game development knowledge. Students will come away competently able to design and engineer their own games.

Game 1: Simple Pachinko, Weeks 1-2
Learn the basics of the Unity Editor, physics, collisions, input, and UI. Very simple coding combined with built in Unity features allow for a game you can slap together in just a few hours. Get up to speed and call yourself a game designer in just 2 weeks.
Game 2: 2D Platformer, Weeks 3-4
From the very beginnings of plumbers seeking mushroom relief, platformers have been a staple in game development. Revisit the simple loop and build your own in no time. Learn more advanced engineering, how monobehaviour and component based programming works, and the fundamentals of what makes one game fun and another boring.
Game 3: 3D Mystery Horror, Weeks 5-6
Who has played Slender Man!? The level of spookiness is up to you, but get yourself an understanding of the 3D game world and build a quick but gritty horror game in the third part of this online course. Learn about working in 3D space, the Unity Asset store, more advanced programming, and more about the core essence of game design.
Game 4: Your Dream Game, Weeks 6-8
Everyone has a game that they have always envisioned building. Well. I'll be honest. You probably won't build it in two weeks. But we can sure as heck get you started! Learn how to rapidly prototype and user test your games, and get hands on help to start making your dreams come true. Wrap up with game demos with the rest of the group, and be well on your way to game development conquest!
This 8-week course takes place on Mondays & Wednesdays. It begins on Monday, August 31st, 2020. Full dates below:
August 31 & September 2
September 8 & 9 (Labor Day)
September 14 & 16
September 21 & 23
September 28 & 30
October 5 & 7
October 12 & 14
October 19 & 21
The classes are held from 6:00 – 8:30pm ET. They are hosted online on Zoom. All students will receive instructions on how to sign in approximately one hour before the first class begins.
The cost to enroll in the course is $2,000. 
Payment plans are available upon request. Please contact events@playcrafting.com to learn more.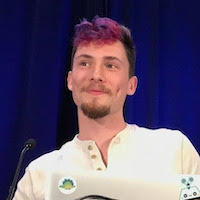 Willem Delventhal has been building games his whole life. Starting with board games as a replacement for book reports, and followed by a kinda sorta accidental sale of his 
first game at 15
, Willem has always known he wants to work in the gaming space. Post college, Willem flew across the country to California to work for Lumosity, the brain training games company. Starting in an internal startup, 
LumiKids
, Willem had an intense bootcamp where he created 6 games in 6 months for the business. His final two games where his own design from start to finish. Moving on to the main company, Willem had his hands in many different projects before producing and developing two more games. His final game, 
Feel the Beat
, became the most controversial game Lumosity had ever released, for better for or worse.
After 4 years of working for the man, Willem decided to quit and pursue something weird. Combining his unique science and gaming skillset, Willem created 
Mew and Me
. The app is a collection of video games for cats and humans to play together, that teaches owners how to bond with their fluffy buddy. Recently featured in the 
LA Times
 and a past 
GDC speaker
, Mew and Me has become Willem's primary focus. However, he also finds a lot of joy in inspiring and teaching others. As such, he does both life coaching and instruction on the side. This is his 8 week Unity Bootcamp. Think you can keep up!?